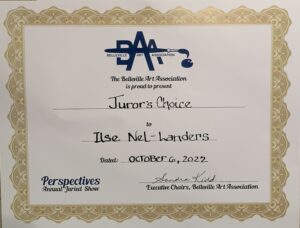 Juror Choice Award
"That Moment"
I must say that this painting took the kind of courage we artists aspire to. Bold red in the outer land formations, cool churning of the closer water over the rocks. A balance of light warm and cool in the sky, greening of the water against the blue of the water. This artist managed to engage the whole specterum of colour.  – Nancy Steel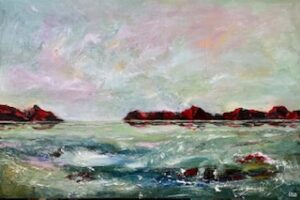 Hello, I discovered your beautiful art through our company auction. I have just purchased "That Moment" and it is absolutely fantastic. I am interested to know the inspiration behind this painting; was this painted from memory or of a particular place? I can imagine looking at this piece for years and discovering something new every time. Your work is truly special and lovely, I wish you well and look forward to following your work! Thank you very much. – Christina
People's Choice Award
Belleville Art Association
"Transfixed"
"Upon Arrival" 
This painting has a very strong presence in our home. It is a large piece, with bold colours presenting an abstract scene of birch trees in a thick woodland. And yet in contradiction,  the trees conveyed a gentle understated assuredness – the wonderful vibe I get when I'm immersed in nature. We live out in the country, surrounded by trees, and its presence feels quite natural. And so what does it do for me? It helps me maintain my connection with nature even though I'm indoors. – Craig Miller
I have several paintings by Ilse Nel-Landers. Her art immediately pulls my eyes towards it. Then I find my eyes lingering over it for longer than other art. The textures, the colours, the balance… I always find more details to mull over.
The landscapes I've bought are similar to the places I love to spend time (northern Ontario) and it often gives me moments during the day thinking about those times.
I get a LOT more compliments on my art collection! – Beth Armstrong
"Never Before"
Art is such a subjective thing, everyone reacts differently to it and is drawn to different pieces. I felt a connection this painting that I couldn't quite articulate but wanted to know more about it.
As an abstract piece, everyone sees something different in it. Standing around with a glass of wine when friends come over and chatting about how we all interpret it is great. – Jay Walker